A holiday in the Mediterranean typically means taking in the beauty of Ibiza, Santorini, Mallorca, Sicily, or other gorgeous islands in this intercontinental sea. Others explore the gems of Croatia or Morocco. But head east, and there's an option that doesn't usually come to mind but is worth a visit — Israel.
With its undiscovered beaches, rich history, holy sites, and year-round sun, Israel is a unique travel destination that caters to different types of tourists. It welcomes around three million tourists per year. And it continuously makes efforts — such as offering more flights and routes at Ben-Gurion airport —  to give tourists a convenient way to reach the stunning spots across the country.
Now that it's easier to book a flight to Israel, you're probably wondering when you should schedule your holiday to this country. The climate here is comfortable throughout the year. But, the best time to visit Israel is between April and September. That period between spring and autumn is when rain hardly ever falls, and the temperatures range from pleasantly cool at night to warm and sunny during the day.
Then again, Israel boasts a variety of tourist spots, festivals, and fun activities that are available all year round. And winter season in the country isn't awful at all. Depending on the region, winter can mean a temperate sun with occasional rain. So, the more fitting answer to the question of the perfect time to travel to Israel depends on your interests, specifically your idea of a great holiday.
To help you decide when to book your flight, here are Israel's best holiday destinations and activities per season:
Early Winter (November to Early January)
The weather is usually lovely in early winter, pleasant during the day and a bit chilly at night. There may be rain, but it seldom lasts more than a day. As such, this period is a perfect time for people who want to spend their November, Christmas, or Easter in Israel.
If you enjoy surfing, November is the perfect time to be on the Israeli coastline. The sea is still warm, but the wind is breezy enough to make big waves. Pick out a surfing spot among Israel's many beautiful Mediterranean beaches, including the ever-famous Tel Aviv Beach.
Spend Christmas in the Holy Land
December and early January are the most magical times of the year for Christian pilgrims. Join one of the dozens of Christmas prayer services that take place in Bethlehem, Nazareth, Jerusalem, and Haifa during the season. Midnight Mass in Bethlehem's Basilica of the Nativity is often packed; thus, this activity requires pre-booking.
Don't miss the Patriarchal procession that leaves from the Old City in Jerusalem on Christmas Eve and makes its way to the Mar Elias Monastery and ends up in the Church of Nativity in Bethlehem.
If you choose to be in the Nazareth on December 24, jostle for a good spot along the city's streets to watch the Nazareth parade marchers as they make their way to the Basilica of the Annunciation. This parade marks the official opening of festive Christmas celebrations in Israel, so watch out for stunning fireworks that cap this event.
There are also other ways to make your Christmas holiday visit to Holy Land more memorable: go to a liturgical concert in Jerusalem; dine at a Christmas banquet in restaurants in Tel Aviv, Herzliya, or Eilat; or have a baptismal ceremony at the Jordan River.
Read our Holy Land pilgrimage guide for more details.
Israelis, like many Europeans, call New Year's Eve "Sylvester," which is the name of the pope whose death on December 31 was marked with a feast. The midnight of December 31 is not a Jewish milestone, so you won't find Sylvester parties in kosher-certified establishments in Israel. But go to Tel Aviv or Jerusalem, and you'll find many bars and clubs throwing huge celebrations on New Year's Eve.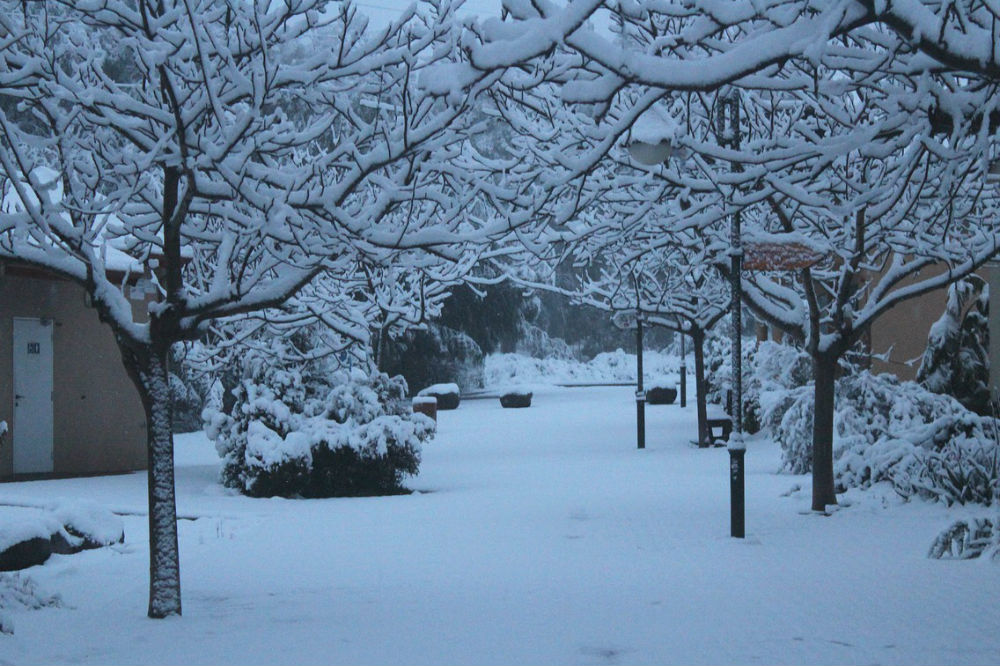 Late Winter (Mid-January to February)
Late winter is the wettest and coldest period in Israel. The coastline areas can be especially rainy, and the mountaintops of Jerusalem, Galilee, and Golan Heights experience occasional snowfall. Despite that, Israel greets many cool days with sunshine, giving tourists enough time to enjoy winter activities.
If enough snow falls during your stay, there's only one place to ski in Israel — and that's Mount Hermon at the northern part of the country. Mount Hermon has a vertical drop of only 1,552 feet, making it ideal for both intermediate and advanced skiers. If you're not much of a fan of skiing, you can still enjoy the snow in Israel with fun activities like tubing and sledding.
In January and February, head to the Galilee region to see thousands of cranes and white pelicans in the Hula. If you want to spot gulls, herons, and waders, then Ma'agan Michael in northern Israel is the place to go. And if, by chance, you're on Western Negev during late winter, don't miss the arrival of Eastern Imperial eagles.
Who says hiking is only for summer? When there's no rain in the forecast, late winter is a great time to go hiking in Israel. You can enjoy the trails without sweating too much. Plus, you won't see a lot of snow-covered landscapes during winter in this country. If anything, this season highlights the bursts of color of Israel's natural beauty.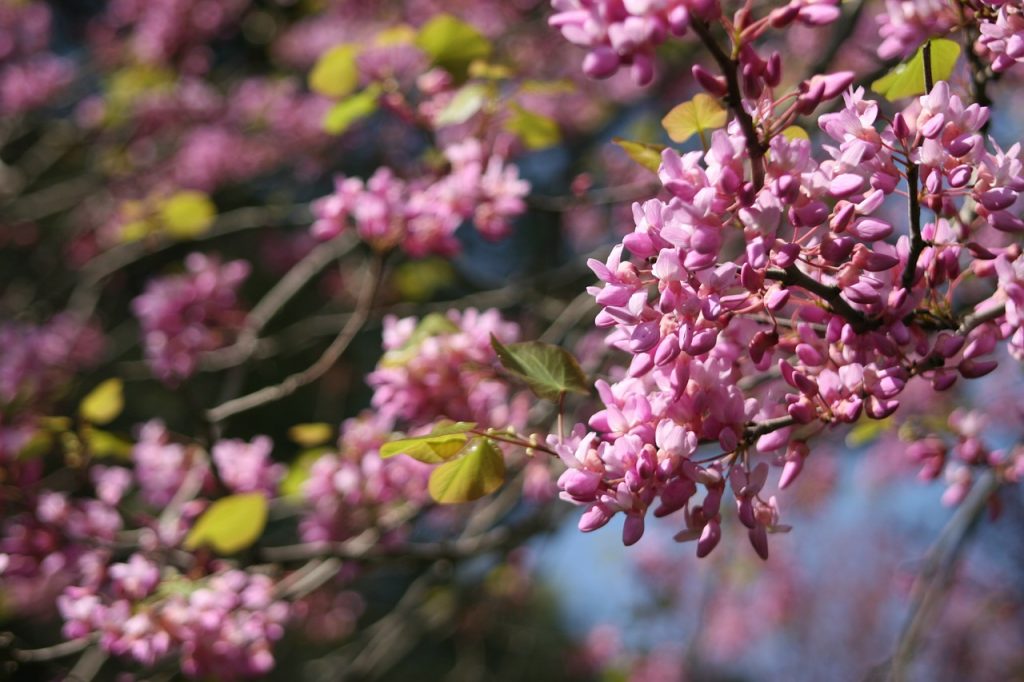 Early Spring (March and April)
With school breaks and Passover, springtime is a holiday season in Israel. The parks and museums are often full. And there are lots of special events, such as music and dance festivals, as well as exciting activities for children. Since so many Israelis are outside having fun during spring, expect places to get crowded and prices to go up. Nevertheless, here are some of the uniquely fun, not-to-miss events during springtime in Israel.
Since resort towns and other popular tourist spots are usually packed in March and April, why don't you take your trip outdoors — to the less-traveled nature trails? For instance, hiking the trail at Nahal Meitzar gives you a chance to experience rushing spring waterfalls. And if you're more of the adventurous type, challenge yourself to a rock climb at Manara Cliff.
Located on top of the Old City walls of Jerusalem, Ramparts Walk is a gem hidden from locals and tourists alike. The walk offers the opportunity to peek into the everyday hustle and bustle of the Old City and provides picturesque views of West Jerusalem, Yomin Meshe, and the Judean Desert. And these views, of course, are best enjoyed on a clear day in the mild, temperate weather of spring.
Stroll Around Jerusalem Biblical Zoo
Situated on stunning, tranquil grounds, the Tisch Family Zoological Gardens, also known as the Jerusalem Biblical Zoo, is the perfect place for families who want to enjoy a quiet picnic. The zoo includes a wildlife savannah with free-roaming animals, which parents and kids can see while riding a train. It also features a petting zoo with chickens, goats, and other animals mentioned in the Bible – definitely an activity most children will enjoy.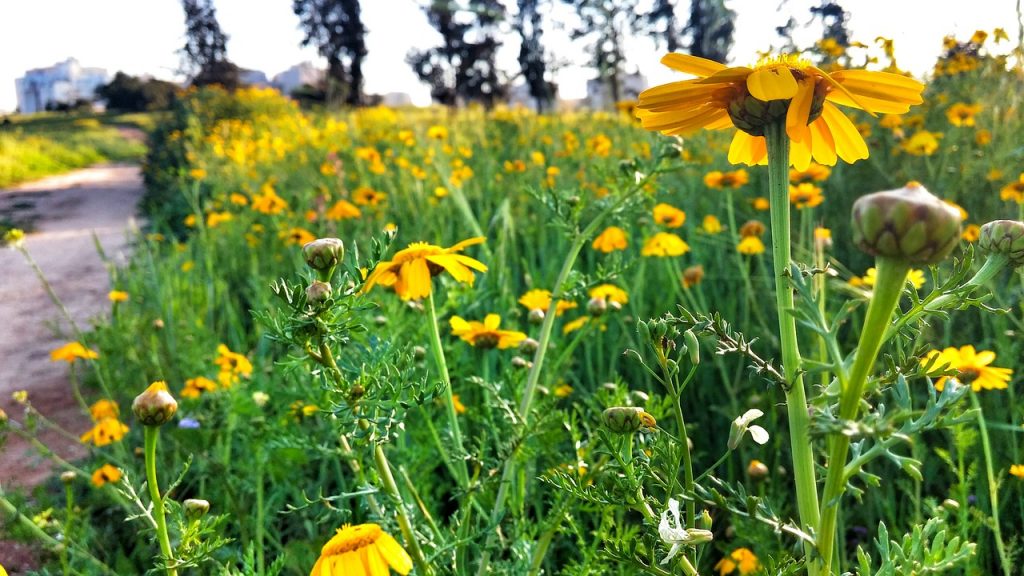 Late Spring (May to Mid-June)
After the weeklong holiday of Passover and just before the summer peak tourist time, late spring is a wonderful time to enjoy Israel's picturesque nature spots. Plus, weather-wise, the rainy season is officially over, so you'll enjoy sunshine and blue skies.
With marked trails and gorgeous landscapes, Israel is a hiker's paradise. And you can best witness these offerings during late spring in Israel when flowers bloom and bring the countryside to life. If you're an amateur hiker, a fully guided experience through hiking tours is available. Want to go solo?  You have nothing to worry about as the trails in this country are, as mentioned, well-marked and accessible.
So, when in Israel, don't miss the chance to appreciate nature's bounty and beauty by hiking popular trails in Israel like those in Red Canyon, Zin Valley, Belvoir Fortress, Hula Valley, and Mount Gilboa.
Biking in Israel has become a national hobby, with tens of thousands of Israelis riding their bikes on nature and city trails every week. For tourists, biking is a brilliant way to explore Tel Aviv or the Negev. But if you want to cycle and enjoy an amazing view of valleys and hills, you should ride through Galilee's bike trails.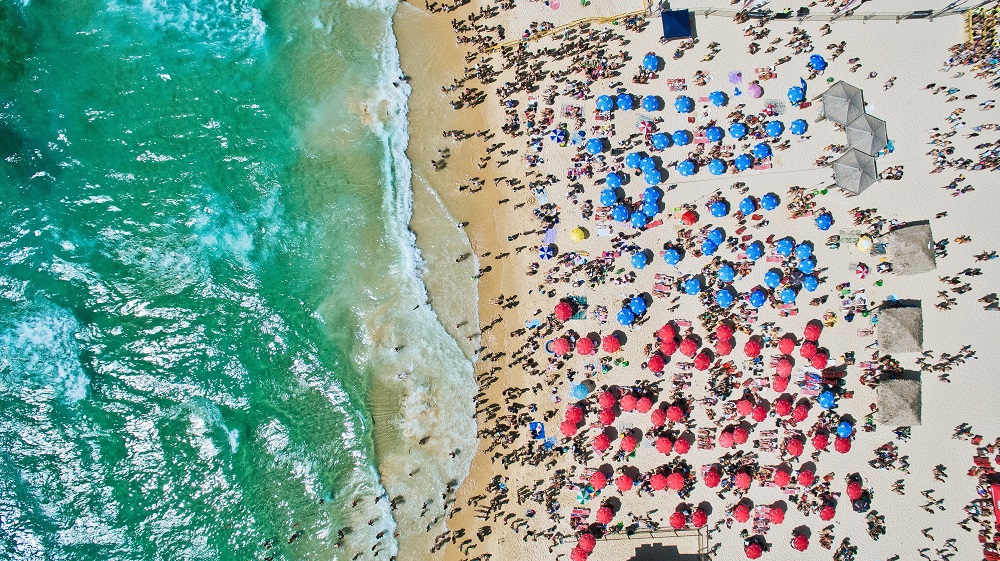 Summertime (Late June to August)
Schools in Israel and most of the world are closed during the summertime, so this is the peak tourist season. But if you're a beach lover, this season is almost guaranteed to give constant days of clear blue skies and nice, warm temperatures. Plus, many of the beautiful beaches in the country have bars and restaurants that are open until the wee hours of the morning. But if you crave summer activities other than swimming and water sports, Israel has a lot more to offer.
Israel has almost 200 kilometers of fabulous beaches that boast white sand and crystal clear water. With access to fours seas: the Mediterranean Sea, the Sea of Galilee, the Red Sea, and the Dead Sea, each of the beaches in this country offers a distinct experience.  Here are some of  the must-visit beaches in Israel:
Kalia Beach of the Dead Sea
For visitors and locals alike, Kalia Beach of the Dead Sea is a great place for a day out. The Dead Sea is at the lowest point on earth. So, don't be surprised if it's one of the saltiest seas you've ever experienced.
The Dead Sea is known for its therapeutic minerals that are reputedly good for skin ailments. Go to Kalia Beach, indulge in a free mud bath, and slather yourself with mineral mud from head to toe for a great photo op — and for healthier skin.
Kalia Beach has changing rooms, showers, lounge chairs, and snack bars to give you a total, convenient Dead Sea beach experience.
Gordon Beach in Tel Aviv
If you and your buds are in Tel Aviv in summer, don't miss the chance to hit the famous Gordon Beach. The beach boasts wide stretches of sand dotted with volleyball courts and lounge chairs. On the boardwalk, you'll also find many restaurants serving generous portions of Israeli food, including sandwiches, salads, and the ever-scrumptious Israeli breakfast. After sundown, several beach bars offer fun after-hours activities brimming with drinks, music, and dancing.
Palmachim Beach in Tel Aviv
Palmachim is not the most popular beach in Tel Aviv. After all, when it comes to facilities, you can only expect a lifeguard, a few sun shelters, and several public toilets. But what it lacks in facilities, it makes up for with unmatched beauty. Palmachim Beach highlights stunning low cliffs to the south and gorgeous views of Tel Aviv to the north — and it is a secluded escape for those who are tired of crowded beaches. Pack a picnic with your family and friends, and find a quiet sandy spot on this beach to enjoy the majestic sea for a whole day. Don't forget to sit, relax, and watch the stunning sunset in the afternoon.
A favorite summer activity among locals is to go to a natural spring or maayan in Hebrew — and you can experience that, as well. From the crystal clear waters of Ein Hanatziv in Beit She'an Valley to Ein Shokek in the Valley of Springs, there are a lot of options for you to immerse yourself in Israel's beautiful nature.
Hayarkon Park in Tel Aviv is a sprawling expanse of greenery, featuring gorgeous gardens and a serene man-made lake. In the heat of summer, you can rent a pedal boat and cruise along the lake for a good view of this scenic park. It's hard to miss the boat rental stations as they're near Ibn Gvirol Bridge and beside Haifa Road Bridge.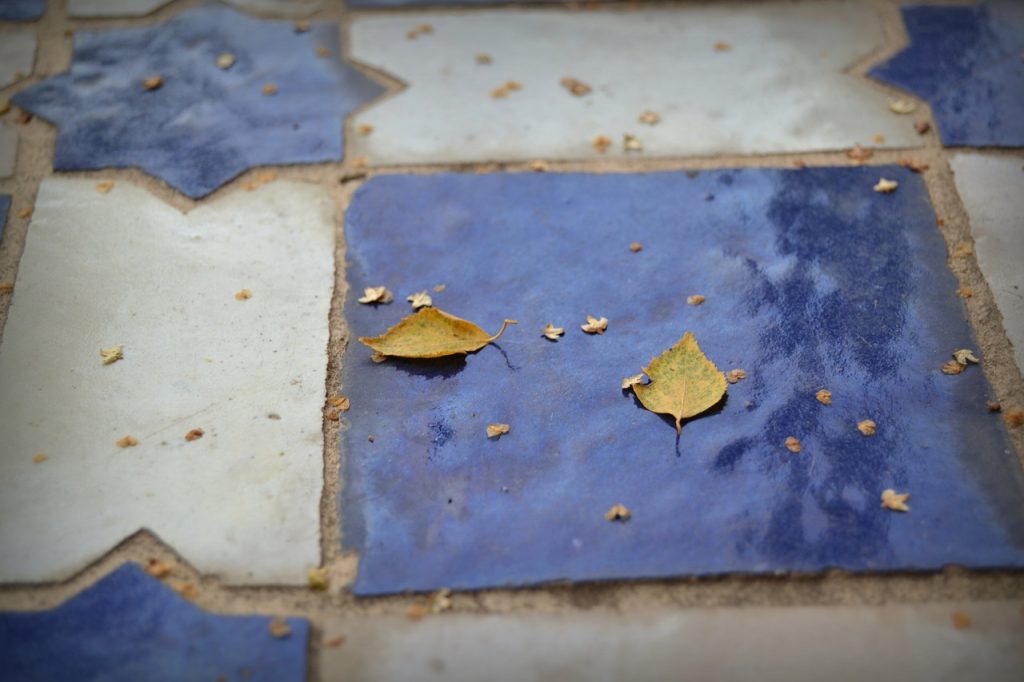 Autumn (September to October)
After spring and summer, the third-best season to visit Israel is autumn. Generally, the weather is sunny and pleasant across the country. Sunsets in Israel are stunning all year round, but some people swear that Israeli sunsets reach their peak of perfection at this time of the year. With great weather, autumn is also a prime time for local festivals of all types.
If you want to take a closer look at Israeli culture, there is no better way to do that than participating in an array of local festivals:
Honey Festival (September 22 to October 9)
The annual Honey Festival takes place at 11 apiaries throughout Israel and guarantees a sweet September. It delivers great fun for the whole family. You and your kids can enjoy beehive tours, honey-tasting, and even lessons in the therapeutic powers of honey.
Haifa International Film Festival (September 22 to October 1)
The Haifa International Film Festival is a film festival that occurs every autumn in Israel. Each year, it strives to bring award-winning films from top international to Haifa. It also showcases brilliant cinematic works from local filmmakers.
Jerusalem Contemporary Art Festival (October 23 to October 27)
Also known as Manofim, the Jerusalem Contemporary Art Festival shines a spotlight on the latest works of several local artists. During the gala night, there will be exhibition openings held in art venues throughout the city and shuttle buses that transport visitors between locations. Watch out for multidisciplinary events that take place in some of the outskirts of the city.
Tamar Music Festival
Held every year, Tamar Music Festival is a five-day celebration of some of Israel's most loved musicians. The main concerts are in the evening, and there are spaces where you can set up tents. If you want to experience the local music scene, joining this festival is a great way to do it.
This list is a testament that Israel tourist attractions are numerous and varied. But, it also shows that there is more to Israel than religious and heritage sites. Plus, there is no better place to spend your vacation than in a country with an almost-perfect climate. You can enjoy your guided tours and spontaneous trips without worrying about sudden, drastic weather changes. And picking the time to visit Israel isn't complicated at all — it's only a matter of what you want to see and do here.